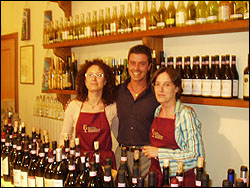 This year sees the opening of the fifteenth edition of the Barbaresco around the Table event; a unique opportunity to taste and understand the new vintage 2006, and learn how to match it with food. Come and celebrate Barbaresco with us!
For three evenings during May (15th, 22 th and 29th May) twelve restaurants within the Barbaresco production area are presenting the same list of Barbarescos to all fans of the wine. Each resturant would offer more than 20 different labels of Barbaresco per evening – a total of over 60 wines made by producers belonging to the Enoteca regionale del Barbaresco.
The restaurants will all be serving traditionel seasonal dishes to accompany their Barbaresco 2006, with plenty of choise for the customer. The prices for a dinner range from 40 € to 80 €. Several of the restaurants participationg has Michelin stars. Where else than in Piemonte can you have a dinner on Michelin restaurant for 80 € or less including wine?
At he beginning of September, vintage 2006 started with very healthy grapes and high sugar levels, thanks to the hot and dry summer. For the same reason, the ripening of colour and aromas proceeded very slowly. In September the weather was warm and summery with the exception of two heavy rainfalls. Therefore we let the grapes dry and started the harvest at the end of September under favourable climatic conditions.
2006 is a very good vintage for Barbaresco, with full-bodied wines, intense colour and good acidity; an excellent long living wine, in the wake of the previous 2004 and 2005 vintages.
The 695 hectares of wineyards yielded 4.190.767 of Barbaresco DOCG 2006..
Further information can be found on www.enotecadelbarbaresco.it.